English news
Blossoming Spirit: Buffalo Florist Infuses Flower Power into Bills Mafia Fandom
Bills Bloom: Florist's Petal-Powered Boost for Buffalo's Spirits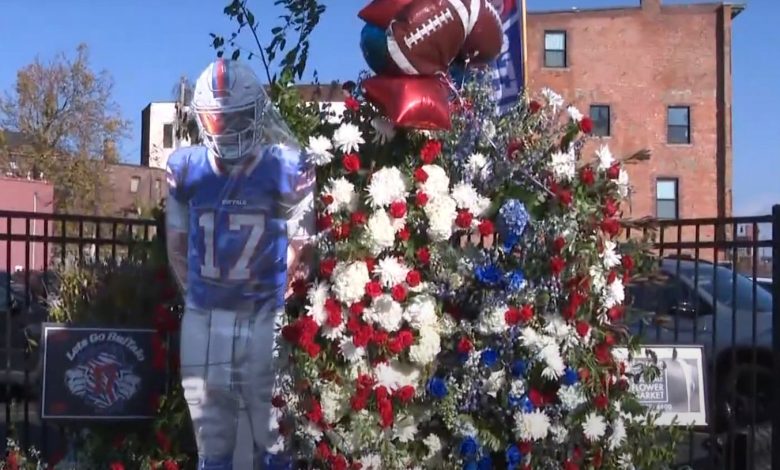 Josh Allen: Buffalo, N.Y. — In a delightful intersection of football fervor and floral finesse, Maureen's Buffalo Wholesale Flower Market has undertaken a unique initiative to uplift the spirits of the Bills Mafia, the ardent fanbase of the Buffalo Bills.
A Blooming Idea
Owner Maureen Bartley, with a keen sense of community and creativity, decided to infuse a burst of color and positivity into the city's atmosphere. Located at the corner of Genesee, Chippewa, and Ellicott Street, Bartley and her dedicated team orchestrated a stunning display of 2,000 flowers. Roses, hydrangeas, and an array of vibrant blooms adorned the space in a dazzling combination of red, white, and blue, mirroring the iconic colors of the Buffalo Bills.
Turning the Momentum
"We decided to turn it around a little bit with the momentum," expressed Bartley, emphasizing the need for a positive and uplifting gesture during a time when fans might be feeling the pressure of the football season.
A Floral Spectacle
The floral masterpiece, strategically placed just down the road from Maureen's flower shop, has quickly become a local attraction, drawing attention akin to the precision passes of Josh Allen to Stefon Diggs on the field.
Pilgrimage for the Bills Mafia
This floral spectacle is more than just a static display. Bartley's creation has not only caught the eye of passersby but has become a pilgrimage site for the devoted members of the Bills Mafia. Enthusiastic fans have flocked to the flower installation to capture photos and share in the camaraderie as the Buffalo Bills gear up for a game against Denver.
Thoughtful Timing
"We wanted to do it before it got really cold and snowy so we knew the flowers would last at least a week by doing it this time of year," Bartley explained, underlining the thoughtful planning behind the creation.
Beyond the Bloom
Yet, the blossoming spirit doesn't end here. Bartley assures that this vibrant Bills-themed flower display is just the beginning of a series of "Flash Flower Displays" planned for Buffalo. As winter approaches and concerns mount over the team's 5-4 standing, these flowers serve as a beacon of positivity rather than an ode to defeat.
Embracing Positivity
"We're in the flower business; let's be positive," Bartley asserted, embodying the resilient spirit of Buffalo and its cherished Bills Mafia.
In a city where football is more than a sport, Maureen's Buffalo Wholesale Flower Market has successfully woven a tale of community, creativity, and positivity — a floral ode to the undying spirit of the Buffalo Bills and their dedicated fanbase.
---
Read More: Mavericks' Resilience Shines in Spectacular Comeback: Dominating Clippers 144-126
E-paper:  Divya Sandesh