English news
NBA In-Season Explosion: Draymond Green, Klay Thompson, and Jaden McDaniels Ejected in Fiery Brawl
Warriors' Green Takes Matters into His Own Hands, Sparks Chaos in In-Season Tournament Clash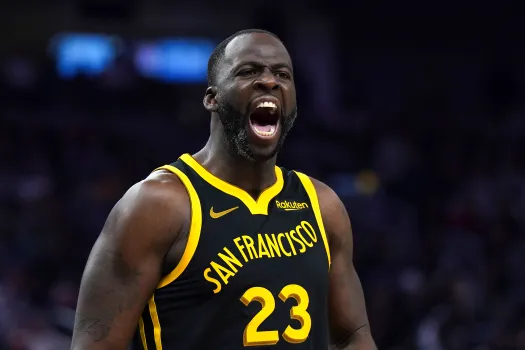 Draymond: In a shocking turn of events, a fiery brawl unfolded in an NBA in-season tournament game, resulting in the ejections of Golden State Warriors' Draymond Green, Klay Thompson, and Minnesota Timberwolves' Jaden McDaniels. The explosive altercation occurred within the first two minutes of the game, setting a dramatic tone for what was supposed to be a competitive matchup.
Draymond Green had Rudy Gobert on a headlock 😳

(via @NBCSWarriors)
pic.twitter.com/3o2EowcytX

— Ball Don't Lie (@Balldontlie) November 15, 2023
The On-Court Scuffle:
The skirmish began as Thompson and McDaniels clashed, exchanging shoves and pulls in transition. The tension escalated when Timberwolves' center Rudy Gobert stepped in to separate Thompson from McDaniels. However, things took an unexpected turn as Draymond Green, known for his fierce on-court demeanor, aggressively intervened. Green placed Gobert in a headlock and forcefully dragged the 7-footer away for a significant seven seconds.
Read More: Broncos' Breathtaking Triumph: Lutz's Redemption Seals Dramatic Victory over Bills
hes been waiting to do this forever pic.twitter.com/b5ZmWzgyWw

— Rob Perez (@WorldWideWob) November 15, 2023
Referee's Decisions:
The referees swiftly took action, issuing double technicals to Thompson and McDaniels. However, Green received a flagrant 2 foul, leading to his automatic ejection. Remarkably, the incident occurred with the score still at 0-0, emphasizing the intensity and early drama of the game.
Consequences for Draymond Green:
This marked the 18th ejection of Green's career, including postseason play, solidifying his lead among active NBA players in this category. Notably, Green had just received his 17th ejection the previous weekend, raising eyebrows due to the questionable circumstances surrounding that incident. The consequences might not end with the ejection for Green, as he could face a suspension in the coming days.
Player Reactions:
An intriguing aspect of the brawl was Timberwolves' Karl-Anthony Towns attempting to retaliate against Green. Towns sought to give Green a taste of his own medicine while pulling him away from Gobert, but Green displayed a veteran's composure, keeping his chin down like an experienced MMA fighter.
Three ejections including Minnesota's Jaden McDaniels. #RaisedByWolves pic.twitter.com/8IKu8mgN45

— Bally Sports North (@BallySportsNOR) November 15, 2023
Warriors' Double Blow:
Adding to the Warriors' woes, they started the game without star player Stephen Curry, sidelined due to right knee soreness. In the span of 10 seconds, they lost two more key players from their longtime trio, with a significant portion of the game still ahead.
History Between Green and Gobert:
While the immediate cause of the brawl remains uncertain, there is a history between Green and Gobert. Last season, Gobert took a not-so-subtle jab at Green, insinuating insecurity after reports surfaced of Green allegedly punching a teammate in practice. Green seemingly remembered this incident, as he later responded with the same four words after Gobert was reported to have punched an opponent six months later.
Conclusion:
As the NBA reviews the incident and contemplates potential consequences, fans are left to speculate on the impact this brawl could have on both individual players and the dynamics of their respective teams moving forward. The early-season drama serves as a reminder that emotions can run high on the court, leading to unexpected and intense moments.
---
Read More: Mavericks' Resilience Shines in Spectacular Comeback: Dominating Clippers 144-126
E-paper:  Divya Sandesh